Principal's Message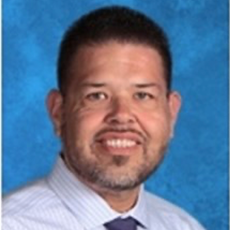 Welcome, Fitz Students and Parents!
         I am very excited to serve as principal at Fitz Intermediate Language Academy for the 2023-24 school year. Here at Fitz, we pride ourselves on setting high expectations for all of our students. We understand that education is the key to their future success and that all students are to be treated with respect and in turn treat others and property with respect. We expect all students to take an active role in the learning process, be highly engaged, support others, and follow school rules. We look forward to all of our Falcons thriving and setting themselves up for a successful future. Your child's future also depends on parents/guardians supporting their student. Therefore, open communication between school and home is an integral part of providing your child with the best learning environment and experience. One very important way this open communication is fostered is through weekly checks in Parent Portal allowing parents to view their child's current grades. 

I believe one of the most important aspects of my work as the Principal of Fitz is building meaningful relationships with students, families, and teachers.  Being present during passing periods, in classrooms, and in the lunch areas, provide opportunities to get to know your child and create an environment where students feel seen and heard.

 In addition to building strong relationships with students, families, and teachers, it is particularly crucial for me to make sure that you and your child feel safe and respected at our school.  If you ever have a concern, please do not hesitate to call the office or email me directly.  I believe open communication is essential, so I will always encourage you to reach out to your child's teacher, a member of the office staff, or me with any questions you may have.  I am excited to welcome your family to Fitz Intermediate Language Academy and we look forward to a great year.
Sincerely, 
Louie Gómez
Principal, Fitz Intermediate Language Academy