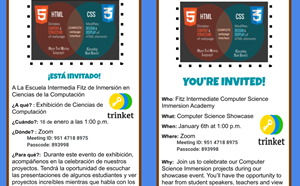 January 6th 2022 Fitz showcased our 3rd annual Computer Science program. Here is the video of our showcase event. https://youtu.be/2EvYm1kZsbg
Principal's Message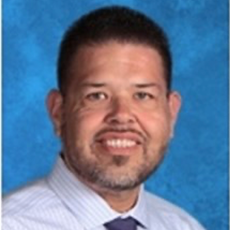 Welcome, Fitz Students and Parents!
         I am very excited to serve as principal at Fitz Intermediate Language Academy for the 2023-24 school year. Here at Fitz, we pride ourselves on setting high expectations for all of our students. We understand that education is the key to their future success and that all students are to be treated with respect and in turn treat others and property with respect. We expect all students to take an active role in the learning process, be highly engaged, support others, and follow school rules. We look forward to all of our Falcons thriving and setting themselves up for a successful future. Your child's future also depends on parents/guardians supporting their student. Therefore, open communication between school and home is an integral part of providing your child with the best learning environment and experience. One very important way this open communication is fostered is through weekly checks in Parent Portal allowing parents to view their child's current grades. 

I believe one of the most important aspects of my work as the Principal of Fitz is building meaningful relationships with students, families, and teachers.  Being present during passing periods, in classrooms, and in the lunch areas, provide opportunities to get to know your child and create an environment where students feel seen and heard.

 In addition to building strong relationships with students, families, and teachers, it is particularly crucial for me to make sure that you and your child feel safe and respected at our school.  If you ever have a concern, please do not hesitate to call the office or email me directly.  I believe open communication is essential, so I will always encourage you to reach out to your child's teacher, a member of the office staff, or me with any questions you may have.  I am excited to welcome your family to Fitz Intermediate Language Academy and we look forward to a great year.
Sincerely, 
Louie Gómez
Principal, Fitz Intermediate Language Academy
Our School
The mission of Fitz Intermediate School is to promote a community of life-long learners in a safe and nurturing environment. We are committed to equipping all Fitz students with the academic and personal skills for lifelong success.
Fitz has a longstanding record of academic success, and has earned the title of Gold Ribbon School and Title 1 High Achieving School, the state's top honor for excellence in implementation of state standards and successful school climate. Our strong academic program includes Algebra and Geometry and 21st century elective courses in Robotics, Heritage Spanish, and the nationally-recognized AVID program which helps students gain skills to be successful in high school and college.  We have a 1:1 computer to student ratio with students using innovative technology tools each day across all content areas.
We have a variety of exciting after-school intervention and enrichment opportunities, including: 
Academic Study Groups provides a place for students to engage in collaborative study groups to  review of in-class material to increase student understanding in certain subjects. Enrolled scholars challenge themselves as they practice the content at an advanced level.
After school AVID program reviews in-class content and helps students master Cornell Notes. Scholars in the program learn effective note-taking while practicing class content.
Our Technology Lab is open before and after school to give students an opportunity to get a head start on their homework and research.
STEM (Science, Technology, Engineering, and Math) activities funded by OC United Way, including Rocketry, Minecraft, and Gamemaker 3D computer programming
Latinos Unidos provides students with leadership opportunities and fun activities to celebrate culture and heritage
Intramural Sports allows students to compete on different teams to play sports after school in a fun, structure environment.
ART for the Core allows students a place to create projects that align to the core curriculum in all content areas.
Drum Line allows students a chance to learn how to play the drums, march and perform for school events throughout the year.
Other athletic and visual and performing arts opportunities
Our parent groups, including Pastries with Principals, Greeters, ELAC and the School-Site Council, play an important role on campus. They assist with events such as, morning and afternoon safety, assemblies, parent meetings, parent education and fundraisers. To increase parental involvement, these groups send home informational announcements about school happenings. Parents who are interested in joining should visit our front office for more information.  
We are excited to begin a brand new school year full of memories and accomplishments for our nearly 520 Fitz Falcons!