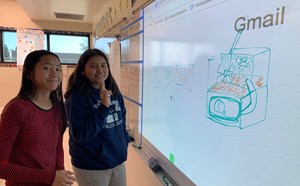 Fitz students prepare for STEAM fest. Groups of students are collaborating, critically thinking, and creating a product that can solve a problem.
Principal's Message
It is my pleasure to welcome you to Fitz Intermediate School.  I would like to welcome back the wonderful eighth grade class and the new group of great seventh grade students who will take on the privilege of being Proud Fitz Falcons.
Intermediate school is one of the most important times in your child's life. The adolescent years can be emotional, exciting, and surprising. Fitz is an outstanding school where teachers, staff, administrators, and a counselor provide you and child unconditional social and emotional support.
This will be an exciting year for both students and teachers as we strive to meet the goals and objectives established by the Garden Grove Unified School District, the California Department of Education, and the Fitz School community. We will continue to build upon the academic progress demonstrated by our past students and invite a new group of students to reach the higher levels of achievement. As always, the 8thgrade students will be positive role models for new or incoming students and provide the necessary leadership. At Fitz we will provide academic support through amazing classroom instruction which is high energy and engaging.  After school intervention is available  to assist students in all content areas: math, science, history, and English. We also take great pride in providing a safe campus. Teachers and administrators enforce school policy to ensure that all students feel safe and secure on the Fitz campus.
Finally, the Fitz staff welcomes all parents to get involved. We have parent classes and committees that you may join to learn more about Fitz Intermediate and how the California education system works: "10 Education Commandment", School Site Council (SSC), English Language Advisory Council (ELAC), District English Language Advisory Council (DELAC), and PTA. We also have Family Math Nights, English Language Learner Parent Night, A-G Parent Night, Drug Awareness and Bully Awareness nights, Back-to-School Night and Open House. By attending these school activities, parents can support their child's education and be actively involved in decisions regarding your child's academic future.
It is an honor to be a member of the Fitz community of dedicated teachers, staff, parents, and students. I am confident that this will be a memorable year and that together we can make a difference for every student at Fitz. As always, I want to become acquainted with each student and family.  Please do not hesitate to introduce yourself.
On behalf of the teachers and staff, I would like to thank you for all of the support we receive from you at home. You really do make a difference in the overall success of the school and your child's education. Please continue to spend time helping your child with homework, and remember to make reading and checking your child's homework a daily family activity. By working together, we can continue to make Fitz Intermediate School an even greater place to learn and grow.
Sincerely,
Feather Hocking
Principal
Our School
The mission of Fitz Intermediate School is to promote a community of life-long learners in a safe and nurturing environment. We are committed to equipping all Fitz students with the academic and personal skills for lifelong success.
Fitz has a longstanding record of academic success, and has earned the title of Gold Ribbon School and Title 1 High Achieving School, the state's top honor for excellence in implementation of state standards and successful school climate. Our strong academic program includes Algebra and Geometry and 21st century elective courses in Robotics, Heritage Spanish, and the nationally-recognized AVID program which helps students gain skills to be successful in high school and college.  We have a 1:1 computer to student ratio with students using innovative technology tools each day across all content areas.
We have a variety of exciting after-school intervention and enrichment opportunities, including: 
Content Boot Camp provides a rigorous review of in-class material to increase student understanding in certain subjects. Enrolled scholars challenge themselves as they practice the content at an advanced level.
Intervention with the AVID program reviews in-class content and helps students master Cornell Notes. Scholars in the program learn effective note-taking while practicing class content.
Our Computer Lab is open after school to give students an opportunity to get a head start on their homework and research.
Girls Inc. promotes positive self esteem and confidence among female students.
STEM (Science, Technology, Engineering, and Math) activities funded by OC United Way, including Rocketry, Minecraft, and Gamemaker 3D computer programming
VAAPA (Vietnamese-American Aerospace Peer Association) encourages girls to learn about STEM and pursue a career in the sciences. The program teaches different levels of STEM education, equipping participants with the skills necessary to thrive in the name of science!
Latinos Unidos provides students with leadership opportunities and fun activities to celebrate culture and heritage
Other athletic and visual and performing arts opportunities
Our parent groups, including ELAC and the School-Site Council, play an important role on campus. They assist with events such as Pastries with Principals, assemblies, and fundraisers. To increase parental involvement, these groups send home informational announcements about school happenings. Parents who are interested in joining should visit our front office for more information.  
We are excited to begin a brand new school year full of memories and accomplishments for our nearly 700 Fitz Falcons!