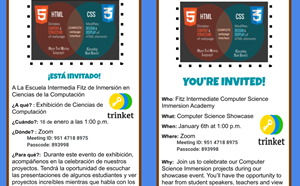 January 6th 2022 Fitz showcased our 3rd annual Computer Science program. Here is the video of our showcase event. https://youtu.be/2EvYm1kZsbg
Principal's Message
On behalf of all staff at Fitz Intermediate, I welcome you to our NEW Computer Science Immersion Academy! In 2019, we proudly began to offer a comprehensive computer science immersion program for all students. Through a partnership with Code to the Future and Project Lead the Way, students develop computational thinking and problem-solving skills that 21st century students must acquire to be College and Career ready!  Fitz students will code to learn through the building of websites, web-based applications and participate in Robotics and Engineering courses with CTE. With the ever changing world of technology and job demands in the computer science world we are proud to embed computer science at Fitz.
To support students' personal skills, we build student's scholarly habits through our school-wide self regulatory and organization strategies, our weekly Falcon Focus lessons, AVID program, mindfulness lessons and more. We also strongly believe in supporting students with our Positive Behavior Interventions and Supports (PBIS) program. The data that we have collected tells us that the PBIS program is providing a framework for students to show their Falcon PRIDE on a daily basis. 
We look forward to working alongside our families in educating students to become life-long learners for the 21st century. Please consider joining one of our many opportunities for parents and families to be involved this school year. We appreciate your support and interest in your student's entire school experience as they work to achieve academic, social, and life-long success.
Sincerely,
Mrs. Feather Hocking
Principal
Our School
The mission of Fitz Intermediate School is to promote a community of life-long learners in a safe and nurturing environment. We are committed to equipping all Fitz students with the academic and personal skills for lifelong success.
Fitz has a longstanding record of academic success, and has earned the title of Gold Ribbon School and Title 1 High Achieving School, the state's top honor for excellence in implementation of state standards and successful school climate. Our strong academic program includes Algebra and Geometry and 21st century elective courses in Robotics, Heritage Spanish, and the nationally-recognized AVID program which helps students gain skills to be successful in high school and college.  We have a 1:1 computer to student ratio with students using innovative technology tools each day across all content areas.
We have a variety of exciting after-school intervention and enrichment opportunities, including: 
Academic Study Groups provides a place for students to engage in collaborative study groups to  review of in-class material to increase student understanding in certain subjects. Enrolled scholars challenge themselves as they practice the content at an advanced level.
After school AVID program reviews in-class content and helps students master Cornell Notes. Scholars in the program learn effective note-taking while practicing class content.
Our Technology Lab is open before and after school to give students an opportunity to get a head start on their homework and research.
STEM (Science, Technology, Engineering, and Math) activities funded by OC United Way, including Rocketry, Minecraft, and Gamemaker 3D computer programming
Latinos Unidos provides students with leadership opportunities and fun activities to celebrate culture and heritage
Intramural Sports allows students to compete on different teams to play sports after school in a fun, structure environment.
ART for the Core allows students a place to create projects that align to the core curriculum in all content areas.
Drum Line allows students a chance to learn how to play the drums, march and perform for school events throughout the year.
Other athletic and visual and performing arts opportunities
Our parent groups, including Pastries with Principals, Greeters, ELAC and the School-Site Council, play an important role on campus. They assist with events such as, morning and afternoon safety, assemblies, parent meetings, parent education and fundraisers. To increase parental involvement, these groups send home informational announcements about school happenings. Parents who are interested in joining should visit our front office for more information.  
We are excited to begin a brand new school year full of memories and accomplishments for our nearly 700 Fitz Falcons!